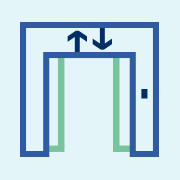 PASSENGER LIFT
Energy-efficient elevators for larger buildings
& busy environments – to carry more people, faster & higher
Building Quality Lifts
over 40 years
Safety

: With years of experience, every installation is completed to ensure the safety of the passengers. Our engineers and professional team count safety as our top priority.
Energy Efficient

: Employing an energy-efficient high-performance gearless traction drive system, passengers experience a smooth and fast ride, with a low noise level. We attend annual international trade events to keep abreast of technology advancements, bringing more options to you.
Customisable

: We have lifts options are from Italy, China and Taiwan, and we assure that you will be presented with the choices available to meet your technical specifications requirements.
Basic to Luxurious Fittings Options

: Whether you decide